"The academy is faced with Christmas' biggest event "StarFes", while preparations are moving along, Hinata and Yuta's hearts seem to be wavering in different directions..."
Duration
▪ Start: 12/15/15 at 15:00 JST
▪ End: 12/25/15 at 22:00 JST

Event Revival added on December 11, 2016.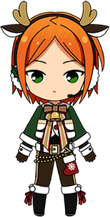 How to Play
▪ To join the event, make sure you already completed your Beginner Tasks.
▪ As you complete 'Lives', event points (

) will be awarded.
▪ To collect the bonuses, click on the yellow button that appears beside the cleared objective. It will then be sent to your Gift Box(

) that can be accessed on My Room.
▪ Once the event has ended, you'll have 1 week to accept the rest of your rewards.
▪ Event Stories can be read again under the Event tab in Story.
▪ Here are some tips on how to increase Fever quickly and trigger Normal/Special Events.
▪ Triggering an Emergency Live depends on your rng luck.
▪ Read more at Event Guide / Revival Event Guide.
Food Items
  ▪ Due to the addition of Revival Events, items now last till after the 3 day revival period is over.


1 Konpeito recovers 1 LP
 1 Sports Drink recovers full LP

1 Yakisoba bread recovers full AP



Event