Scout! Runway
スカウト!ランウェイ




"With the competition against Undead in the eve of the festival live ahead of him, Makoto doesn't have confidence in himself. He is to receive guidance from Izumi under the conditions requested of him, but..."

Starts: 5/14/2017 at 15:00 JST         Ends: 5/30/2017 at 15:00 JST

Cards from "Runway" will be 2x more effective during Play Your Part! Cinderella's Grand Stage event.
Bonus Event Points are awarded if you complete the current event lives with a unit comprising of the scout *4 or *5 card:

4 card: 2-10% (For every copy of the card owned, the bonus increases by 2%. Eg: 1x yields 2% bonus event points)
5 card: 4-20% (For every copy of the card owned, the bonus increases by 4%. Eg: 3x yields 12% bonus event points)

Comes with a total of 8 chapters by Yuuki Yoshino, which can be unlocked in the cards' Idol Roads.

Cards:

(Modeling Bonds) Makoto Yuuki
(Model's Pride) Izumi Sena
(Active Model) Arashi Narukami
(Adventurous Model) Madara Mikejima
Unit Skill: Runway
"華やかなモデルたちの単場。誰よりも美しく輝き視線を奪い合う。"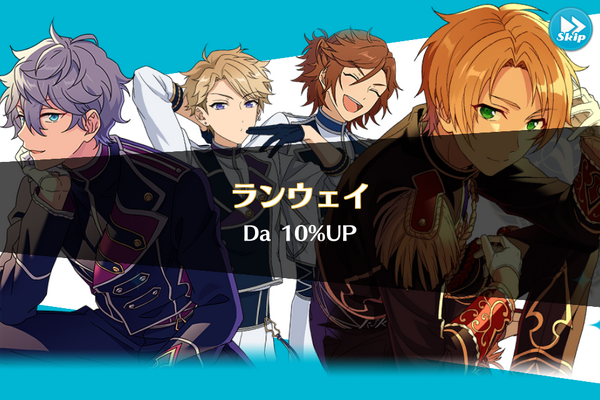 · If Makoto, Izumi, Arashi, and Madara are gathered in the same unit during the scouting period, the unit skill "Runway" will activate, giving a 10% boost to Dance.
Pages in category "Runway"
Ad blocker interference detected!
Wikia is a free-to-use site that makes money from advertising. We have a modified experience for viewers using ad blockers

Wikia is not accessible if you've made further modifications. Remove the custom ad blocker rule(s) and the page will load as expected.