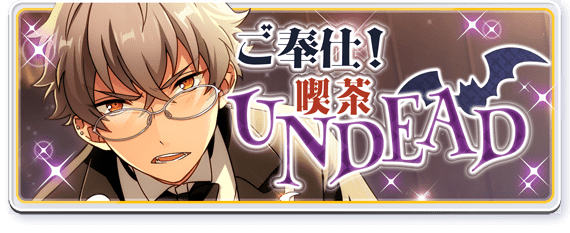 "The 'School Festival' is held every year and the other units have started preparing for their displays. UNDEAD has yet to come up with anything, but Kaoru announces that he wishes to help with that. Just what on earth is his ingenious idea?"
Duration
▪ Start: 6/16/2015 at 15:00 JST
▪ End: 6/27/2015 at 22:00 JST

Event Revival added on August 26, 2016.
How to Play
▪ To join the event, make sure you already completed your Beginner Tasks.
▪ As you complete 'Lives', event points (

) will be awarded.
▪ To collect the bonuses, click on the yellow button that appears beside the cleared objective. It will then be sent to your Gift Box(

) that can be accessed on My Room.
▪ Once the event has ended, you'll have 1 week to accept the rest of your rewards.
▪ Event Stories can be read again under the Event tab in Story.
▪ Here are some tips on how to increase Fever quickly and trigger Normal/Special Events.
▪ Triggering an Emergency Live depends on your rng luck.
▪ Read more at Event Guide / Revival Event Guide.
Food Items
  ▪ Due to the addition of Revival Events, items now last till after the 3 day revival period is over.


1 Konpeito recovers 1 LP
 1 Sports Drink recovers full LP

1 Yakisoba bread recovers full AP



Event