(Youthful) Yuzuru Fushimi


[若者らしく] 伏見 弓弦

Stats
Rarity
(min/max/IR):
7,240//25,804
(min/max/IR):
2,860//19,840
(min/max/IR):
2,880//16,135
*Max refers to stats at Max lvl w/o Idol Road or any Limit Break.
*IR refers to max + Idol Road complete with no Limit Break.
Information
How to Acquire:
◦ Enjoyment♪ Autumn School Trip (11/15/15 - 11/25/15): Achieved by reaching rank 7,500 or better at event end.
Notes
◦ Unlocks "Hot Spring Towel" and "Hot Spring Yukata" Outfit in Idol Road.
Skills
Reverse Turn
Decreases opponent's Dance
Step Master
Slightly increases the acquisition of Red Jewels (Medium)
Upgraded Skills
Lonely Youth
Considerably Decreases opponent's Dance
Hurrying to Master
Considerably Increases acquisition of Red Jewels (Medium)
Mini Chara
| | |
| --- | --- |
| Original | Bloomed |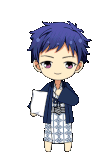 Motion
Nodes Description
Node
Description
Clear condition
A
Dance + 360
Small red x4
A1
Dance +510
Small red x4
A2
Dance +400
Small red x4
A3
Dance +410
Small red x4
B
Dance +430
Small red x4
B1
Performance +450
Small yellow x4
B2
Performance +550
Small yellow x6; Medium yellow x1
C
Dance + 540
Card level 10; Small red x6; Medium red x1
C1
Dance + 530
Small red x6; Medium red x1
C2
Unlock Live Skill
Small red x6; Medium red x1
D
Vocal + 630
Small blue x6; Medium blue x1
E
Dance + 650
Card level 25; Small red x6; Medium red x2
E1
Dance + 540
Small red x6; Medium red x2
E2
Dance + 490
Small red x6; Medium red x2
E1-1
Vocal + 650
Small blue x6; Medium blue x2
E1-2
Vocal + 660
Small blue x6; Medium blue x2
F
Performance + 550
Small yellow x6; Medium yellow x2
F1
Vocal + 520
Small blue x6; Medium blue x2
F2
Vocal + 1020
Small blue x7; Medium blue x3
F3
Unlock Lesson Skill
Small blue x7; Medium blue x3
F2-1
Vocal + 910
Small blue x7; Medium blue x3
G
Vocal + 990
Card level 40; Small blue x7; Medium blue x3
G1
Performance + 820
Small yellow x7; Medium yellow x3
G2
Outfit Unlocked (Hotel's Yukata)
Small yellow x7; Medium yellow x3
H
Performance + 770
Small yellow x7; Medium yellow x3
I
Dance + 850
Card level 50; Small red x7; Medium red x3
I1
Vocal + 1020
Small blue x7; Medium blue x3
I2
Vocal + 960
Small blue x10; Medium blue x5; Large blue x1
I1-1
Vocal + 1010
Small blue x7; Medium blue x3
I1-2
Outfit Unlocked (Towel)
Small blue x10; Medium blue x5; Large blue x1
J
Dance + 770
Small red x10; Medium red x5; Large red x1
J1
Performance + 800
Small yellow x10; Medium yellow x5; Large yellow x1
J2
Performance + 1050
Small yellow x10; Medium yellow x5; Large yellow x1
J3
Performance + 1430
Small yellow x10; Medium yellow x5; Large yellow x1
J1-1
Vocal + 970
Small blue x10; Medium blue x5; Large blue x1
J1-2
Vocal + 840
Small blue x10; Medium blue x5; Large blue x1
K
Vocal + 780
Card level 60; Small blue x10; Medium blue x5; Large blue x1
K1
Performance + 1020
Small yellow x10; Medium yellow x5; Large yellow x1
K2
Performance + 1010
Small yellow x10; Medium yellow x5; Large yellow x3
L
Vocal + 1220
Small blue x10; Medium blue x5; Large blue x3
M
Ultimate Form
Small red x10; Medium red x5; Large red x3
N
Dance + 750
Small red x10; Medium red x5; Large red x1
N1
Performance + 1000
Small yellow x10; Medium yellow x5; Large yellow x1
N2
Performance + 870
Small yellow x10; Medium yellow x5; Large yellow x1
N1-2
Dance + 820
Small red x10; Medium red x5; Large red x1
O
Performance + 870
Small yellow x10; Medium yellow x5; Large yellow x1
O1
Performance + 920
Small yellow x10; Medium yellow x5; Large yellow x3
O2
Performance + 1030
Small yellow x10; Medium yellow x5; Large yellow x3
O1-2
Dance + 900
Small red x10; Medium red x5; Large red x1
Card's cgs